Reebok International founder Paul Fireman is jumping back into the running-shoe business, with an investment of close to $20 million in a Colorado sneaker maker that aims to capitalize on the industry's biggest innovation in decades: shoes that mimic barefoot running.
If Fireman has been looking for his next act, perhaps he has found it in Newton Running Co., a Boulder start-up that specializes in $175 sneakers built to emulate a shoeless stride — yet with enough cushioning to protect skin and joints from the realities of pavement pounding. He and his Fireman Capital Partners will take a roughly 30 percent stake in Newton.
"I never thought I'd be involved in anything to do with an athletic or shoe company again,'' said Fireman, 67, who five years ago sold Reebok to Adidas-Salomon for $3.8 billion and personally reaped $800 million. "But this one intrigued me.''
Newton's chief executive and co-founder, Jerry Lee, will retain a majority stake in the company. An avid marathoner who has run Boston three times — though he prefers Boulder's mountain paths — Lee insists this is not a niche product. Footwear to enable a "midfoot'' style of running, rather than the more common heel striking, is in high demand, he and other industry specialists said.
"In my view, this is probably the largest single revolution in running footwear since the Nike air bag,'' said John Fisher, the former chief executive of shoemaker Saucony Inc. who now teaches marketing at Babson College. "The idea of minimalism will continue to grow in geometric leaps and bounds.''
Fisher said it has been decades since anything truly new has emerged in the running shoe business, and that Fireman could well be seizing on a large opportunity, "where you put one and one together and you don't get two — you get nine.''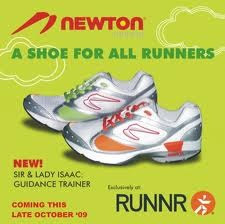 This new trend in running, marked by brands like
Vibram FiveFingers
, isn't for everyone. Critics said some people are getting injured using so-called minimalist shoes, with thinner soles than many Americans have grown accustomed to over the past few decades.
Colin Peddie, owner of Marathon Sports, a specialty running store in the Boston area, carries Newton Running shoes in his shops and runs in them himself. He said he sees them as a training tool to be used several days a week, a shoe that can help runners change up their technique and avoid certain common injuries, like knee problems, from landing hard on the heels mile after mile.
"I'm rooting for the brand. I like it,'' Peddie said, noting that Newton is not an extreme minimalist shoe, and offers heel cushioning. But, "It takes some education.''
With all of Reeboks power now in Newton they'll start to grow alot quicker.