If you've ever had to tape specific toes to avoid blisters or crowding in your sports shoes, you'll appreciate these socks. They may look like old fashioned toes socks that showed up on kids in the 70s, but these socks are made with athletes in mind. Like other athletic socks, they are made of CoolMax fabric (and other wool blends) to help wick moisture from the skin to keep the feet (and toes) dry.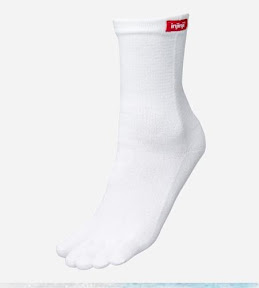 Toe socks are also seamless which helps reduce pressure and chafing near the toes, and they come in a variety of sizes and colors.
All this makes a good sports sock, but the real magic of Injinji is the individual toes. Having each toe in its own 'sleeve' keeps the toes from overlapping, reduces skin on skin friction, and allows each toe to move a bit more freely. And because each toe is surrounded by this wicking fabric, the entire foot seems to stay drier than with regular socks, which keeps feet warmer in the cold and cooler in the heat.
Down side of Injinji Socks:
Yep, they do feel strange at first. It takes a few minutes to get accustomed to feeling material between your toes, and that extra material does take up just a bit more space in the shoes. However, the extra material didn't seem noticeable to me during my runs.
Another downside of toe socks is that they take longer to put on and you need to be much more deliberate about the fit. I need to spend a bit of time getting my toes in the right spot and then pulling all the material up to the base of the toe to "fill out' the sock entirely. Leaving any extra material at the tip of the toes simply defeats the purpose, so take the time to get them on all the way.
Finally, while Injinji offers a variety of colors, the color schemes are pretty standard for most of the series (white, black, grey, blue), except for the rainbow stripes of course. Perhaps as they catch on, there will be a better selection of colors.
Injinji Toe Sock Styles and Price:
Injinji has several styles of toe socks, including the Performance Series, the Outdoor Series, the Travel Series, the Echo Series, and the Yoga Series all designed for a specific use. Injinji socks are a bit more expensive than most standard sports socks (MSRP: $12-$14 US), and they can be a bit harder to find, unless you shop online.
Overall, I'm a fan of Injinji. If you are a runner, walker or hiker dealing with unhappy feet, I'd recommend you give Injinji a try.