Product Information
The Instinct leads the way in "Zero Drop" cushioned running shoes. You were born to run long distances. With Zero Drop and ALTRA's all-man foot shaped design, now there is less hindering you. Nature gave you instincts, trust the animal inside you–Run Natural. The first of its kind, The Instinct marries the biomechanically correct benefits of correct barefoot positioning with a fully protective running shoe.
The Specs:
-Weight: 8.8 oz
-Foot Shaped Design: Male FS-1 Last
-NRS: Natural Ride System
-FootPod Outsole Encouraging Natural Motion
-Quick dry air mesh upper with minimal seams
-Asymmetrical Lacing, Heel Claw, and A-Wrap for superior fit
-Drilex Premium Liner
-Strengthen and Support Insoles
-Designed to be worn without any insoles for Minimalist Runners or for those who prefer less cushion or more room.
The Altra Instinct is a shoe that deviates from tradition by actually having a foot-shaped design. Among my rather large collection of running shoes, the Instinct easily has the widest forefoot, and it's one of the few shoes I own that provides ample space for my pinky toe. It's kind of an odd looking shoe, if only because I'm not used to wearing a sneaker-style running shoe that is actually foot shaped (gasp!). I'm not including the Vibram Fivefingers here – hard to get more foot-shaped than those, but the VFFs are definitely not sneaker-style running shoes.
In addition to its anatomical shape, the Instinct is also a true zero-drop shoe, meaning the sole is the same thickness at the heel and forefoot (see photo above). The Instinct is not unique in being zero drop (Vibram Fivefingers, Merrell Barefoot, and a few others also meet this standard), but it is one of the only zero drop shoes that is also amply cushioned, if you really need your minimalist shoe to be cushioned.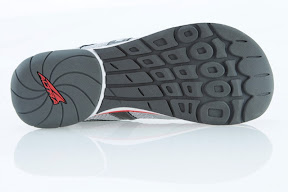 Immediately upon lacing up the Instincts, you begin to realize just how well these shoes are made. A cursory review of the exterior reveals solid construction at every seam, superior materials in all the right spots.
Here's the thing about this shoes, it's not a shoe that hardcore minimalist shoe wearers will love, when running in this shoe you'll find it a soft run due to the cushioning and thicker sole, so you lose some ground feedback
But for those who have made the switch to minimalist running (or thinking about it), the Altra Instinct is definitely worth checking out. While not a shoe that feels anything near the Vibram FF, it is a great transition shoe to begin the journey from "heavy heel strike" to Zero Drop