Have you seen the new ads for the Puma Faas 500's? How can Puma go wrong when selling a running shoe and have the fastest men and women promoting it? Hey I want to buy a shoe that will make me run like Bolt!
Here's what Pumas site say:
The Faas 500 islightweight neutral trainer for everyday training, inspired by the rhythm of the world's fastest country — Jamaica. It's constructed with BioRide Technology, an integrated system that gives you a more natural and responsive ride. The unique rocker shape allows for a biomechanically efficient stride with an effortless toe-off. The flex grooves built across the tooling increase responsiveness while the full-length lateral groove in the midsole reinforces stability throughout the gait cycle.
The Faas 500 takes design cues from PUMA's old school running trainer, the RS1. It features a mesh upper with synthetic suede. The EverRide and EverTrack in the outsole add cushioning and durability where it's needed, while the OrthoLite® sockliner increases breathability.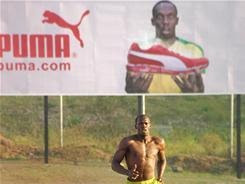 So what do you think? Are you sold yet? I have always been a fan of Puma for their style but not a huge fan of Pumas for a running shoe. It seemed as if they spent a little too much time focusing on soccer cleats and fashion, but not enough time on their running shoes. So when I first saw the Puma Faas 500 I thought to myself here's another flashy Puma shoe that won't cut it. But like me you'll quickly find out that your Puma Faas 500's are more then just a good looking shoe they are a good running shoe.
The Puma Faas 500 running shoes were put together with 3 categories in mind; rocker, flex, and groove, all of which make up the BioRide Technology midsole. The rocker helps propel the foot in a forward motion from heel to toe, the flex allows your foot to do a little more work with each individual foot strike, and the small grooves allow the shoe to contour the ground and better react to every foot strike. I found the midsole of the Faas 500 to have plenty of cushion on middle to long distance runs, allowing my feet to do a little more work than normal, but not too much. Although they worked great for me on mid to long distance runs, I am not too sure they would work all that great for a runner with heavy pronation problems.
The thing about the Puma Faas and it's "rocker" it seems like it was designed for heel strikers or mid foot strikers, as you know I'd like to see you forefoot striking.
Overall, I was very happy with how the Puma Faas 500 performed and I commend Puma for stepping over to the bright side! If you are looking for a more lightweight minimalist shoe, Puma is also going to be offering the Faas 300 this season which is a trimmed down version of the 500. For more information, please visit Puma.com/running
Design
Well, this Fluo Green/Puma Silver colorway is about as out there as you can get – but I like them a lot. I'm not sure if it is actually what they are designed for, but I have felt safer running in the evening time while wearing them! They really are pretty minimal to look at, with just the signature Puma design in Navy running along either side of the shoe. The upper is created using a mix of lightweight mesh and synthetic suede creating a very durable combo.
Shape
One of the unique features of the Faas series is the actual design of the sole. If you look at the above image, you will notice how the front of the shoe (toe box) sits naturally off the ground. This is part of the BioRide technology used in the shoe designed to create a naturally responsive ride, in particular it is the rocker shape that offers smooth touchdown and effortless toe-off as you run.
How do they feel to run in?
If you are looking for running shoe that offers fantastic rebound properties but is also lightweight, well then these are for you. Weighing in at 9.7oz, I am still shocked at how Puma have put the whole shoe together. They are well padded, offer a super soft landing and are just down right comfortable – something that is extremely difficult to find in a lightweight shoe. The only issue here is if your looking for the feedback from the ground like your
vibrams
you lose some of that with the Puma Faas 500
For me, the key to the shoe is the Groove technology, a midsole groove offers flexibility in the shoes movement side to side offering a more natural stability to the way you run. This, in my opinion, is the highlight of the shoe and offers an ideal solution for runners who have ankle issues. Think of it this way, you know when you are running around a corner and you sort of drop your hip/shoulder into the turn? Well, the Faas 500 offers a smooth feel as you go through the turn, with the sole of the shoe staying flush to the ground, but the midsole groove moving with your foot to give you increased stability.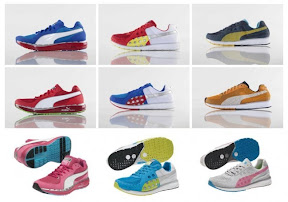 Finishing Up
The Faas 500 is a running shoe designed to offer the highest level of comfort and durability. They absolutely succeed in both capacities. I would recommend this running shoe for anyone looking for a super high level of cushion and support while running. There are many similar versions on the market, but when you add the lightweight feel of the Faas 500, it seems to be the complete package! Soccer wise, they are great if you are looking to use road running as a source of fitness, where the terrain might be pretty bumpy. And if you have ankle issues, they are a pretty solid option!