Have you been running this spring? Are you wondering if there is a way out there to map a run?
Well if you want to map a run there are plenty easy ways out there to map a run.
1) Websites - There's a great site called
MapMyRun,
I pulled the site up and within a minute I had mapped a run I just completed and it provided all the info I wanted, it's a quick and easy way to Map a Run. Another good one is
Runningmap.com
2) GPS - If your looking for something that covers all the bases, pick yourself up a GPS watch, most of the watches now track everthing and then after the run you call plug your GPS watch into the computer and it will Map your run. Check out a review for the
Garmin Forerunner 405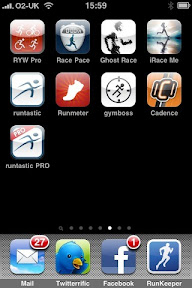 3) Smartphones - There's plenty of App's out there for you to Map a run, I have fooled around with a few of them and
iMapMyRun
is a great free one.
4) Old School - Bring a map and do it old school, I hope this helps